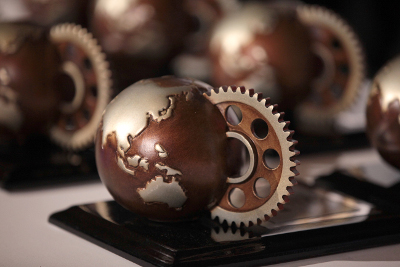 The 2018 Awards are now closed.
An Award is a prize for a job well done. The FIRE Africa Awards seek to acknowledge innovative initiatives in Africa that have made concrete contributions through the use of information and communications technologies and have had a proven impact on the region's social and economic development.
Winning initiatives must meet three main requirements. All project proposals must have a technological component through which they seek to solve development issues. Proposed solutions must be innovative, i.e., they must present new strategies, notions, ideas, methods and processes that respond to social needs and can broaden and strengthen communities. Finally, successful initiatives must have a proven impact, i.e., they must submit indicators and evidence that support the creation of value for the target communities.
There is only one funding category for the 2018 Awards
Internet for social inclusion: Successfully completed IT related projects led by Female entrepreneurs focusing on using technology to address the specific challenges faced by women and girls, and these projects still have a potential for growth. Such entrepreneurs are eligible to apply for one of the three(3) $3000 cash prizes at the FIRE Africa Awards sponsored by the IDRC. The Awards ceremony will be at the IGF meeting in Paris between 12th to 14th November 2018. Initiatives related to freedom of expression, freedom of association, privacy, security, consumer's rights, new forms of intellectual property in the digital environment, and a wider range of issues related to Internet and human rights. This category seeks to promote participation through the use of ICT and covers three sub-areas:
Social inclusion and democratization of access and the use of ICT.
Promoting social inclusion of marginalized social groups and communities through the use of digital tools.
Promoting innovative, open, inclusive, and sustainable approaches for accessing key content and knowledge that will democratize access and the use of ICTs.
Fostering the growth of young developer communities so they can achieve critical mass by promoting applicable and replicable initiatives, with particular emphasis on women and girls in ICT.
Promoting skills for content and application development at the recreational, social and economic level (hackathons and similar events).
Encouraging the creation of alternative licensing, platforms and/or tools that will promote the development, use and consumption of local content and content produced by marginalized communities.
Internet and technologies for civic participation and the strengthening of democracy:
Encouraging the use of mobile technologies to drive increased participation in social and political processes.
Promoting and strengthening the various stakeholders' transparency and accountability (including governments);
Encouraging citizen participation and forcing the exercise of democracy.
Facilitating citizens' access to services (procedure guides, decentralized points of access, etc.).
Internet and technologies for freedoms and rights.
Encouraging the strategic use of the Internet for the promotion and defence of Human Rights and Fundamental Freedoms.
Regulatory developments that promote and defend the exercise of Human Rights in the digital environment.
Implementing tools that will contribute to user security and privacy.
Capacity- and awareness-building campaigns for defending and promoting Human Rights online.
New forms of intellectual property in the digital environment.
Implementing tools that will contribute to user security and privacy.

Three winners will be selected through this 2018 call for projects. The FIRE Africa Awards will be presented to ongoing initiatives or completed projects that submit concrete evidence of their impact. Projects pending execution or which are about to begin will not be accepted.
The FIRE Award consists of a $3,000 USD cash prize plus full travel and accommodation for one representative of each project to attend the awards ceremony, and participate in sessions which will be held at a location to be announced later. Before submitting your proposal, we invite you to read our frequently asked questions. If you have any questions, please contact the officer in charge of the program at fireprogram (at) afrinic.net
Key dates for the 2018 AWARDS Proposals
Call for project proposals opens: 20th April 2018
The final deadline for submitting project proposals: 15th June 2018 ( Now extended to 27th July 2018)
Selection process: 30th July to 10th August
The announcement of successful projects: 17th August 2018
No proposals will be accepted outside the online application system. All proposals have to be submitted before the deadline.